One week in on taking requests, lets have a look at what I've come up with so far.
First up, I get a request from Benson, He wants a catgirl, Alright I say:
Further afield on the internet, Shottis requests a comic book styley cover featuring himself and his two characters Kara Walker and Kaitlyn. This is what I came up with: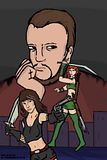 Up next web series Sally Carter's writer Desklife requested a couple of things of the series characters. I had a crack at Hood, and plan on doing more in the future. More of her stuff Here: http://sallycarter.blogspot.com/ .The requests are coming in hard and fast now though.
Finally Bowser81889 requested something of his original Sonic character, Reign. I've not done anything like this before, so there you go. Came out quite well though all told.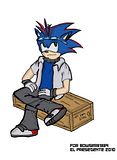 Coming soon: Denwoods request Involving Santa and a bear, The Facilitator, some more original characters, and Zangief. See you in a week.